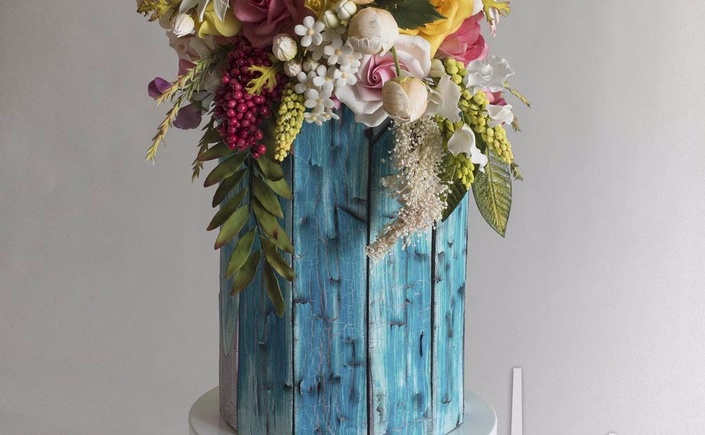 Edible Aged Painted Wood Effect for Cakes
Learn to make Kara's most popular and well loved technique!
Edible Aged Painted Wood Effect for Cakes
Are you ready to make arguably one of the most stunning "trick the eye" techniques I've ever created? This cake went viral within 24 hours and the immense demand for a tutorial on that gorgeous and true-to-life aged wood was unable to be ignored. So here it is! A video that you can download and keep FOREVER along with a quick reference PDF.

My best selling and most loved tutorial...
Elegant, faux, EDIBLE aged "wood" that will fool everyone!
This sophisticated look seems advanced... but it's not!
E
ven if you're new to cake decorating you can master this technique easily and quickly with my video tutorial. You don't need any special tools or any out-of-the-ordinary materials. It's kinda awesome if I do say so myself :)
PDF Quick Sheet

Once you master this with the video, you can go back quickly for small reminders to your PDF where each step is briefly covered as a quick reminder. No need to watch the whole video again.
It sounds scary since we typically don't want that to happen. The more the merrier here and I'll show you how to make those cracks intentional for the look you want.
Yep. I'm going to show you how "damage" your wood pieces to give them the aged look. The finishing details are where the success and beauty comes out!
WOW Your Clients

This finish for your elegant wedding and celebration cakes will make you seem like a sugar and cake wizard! Only you and I will know how easy it really was. Don't worry, I won't tell!
Order now and start watching instantly! I know you'll love it and be making awesome cakes with these techniques straight away! Don't forget to email me with pictures of your projects and tag me on social media so I can see them all and cheer you on. :)